Megan Nielsen's Brumby skirt is a pattern I've had my eye on for a while — there are so many great versions out there!
I got this slightly shiny mystery/devil fabric at Marseille Textile and thought I'd make some joggers from it. But when I couldn't find the chambray I originally wanted for this skirt, I decided I would try for something like this beautiful gray sample.
I've mostly purged polyester from my life but I do have one pair of pants in a very soft and light synthetic fiber that I love. I thought this fabric might be a bit like it but noooooo. In the store it looked well-behaved but when I pre-washed it, I discovered that it wrinkles a ton. Maybe it's a poly blend?
Because of the polyester content, pressing doesn't do much to it which means the gathers have more volume than I'd like. There are also a lot of little wrinkles around the center front seam. I need to stop getting tempted by mystery fabrics!
The pattern is simple but the nice waistband and pockets along with the clear exposed zip instructions make it more than a plain gathered skirt. I made version 2 with the pockets and center front seam. Those pockets really are awesome. They add a lot of visual interest and also give me something to do with my hands which can be a problem when taking pictures. 😆
I measured my waist as 68cm which is between sizes XS (66cm) and S (71cm). I measured the pattern to confirm there's no ease in the waistband and added 2cm.
As others have noted, the instructions are very clear and easy to follow. Megan Nielsen has an iOS app which is super cool! It provides a nice shopping list and pattern envelope info as well as the instructions grouped by section. I never print instructions for PDF patterns and typically put the document in Dropbox to refer to on my phone. A native app is even better!
This skirt was super fun to make but I have to admit I don't love how it looks on me. Part of it is the fabric which has a strange sheen to it, looks kind of constume-like and just fails to bring me joy!
I'm also not totally sold on the proportions on me. I went back to look at versions that I loved and they are all worn by shorter-waisted, curvier ladies which gives a different effect. I do think a slightly more blousy top like the red one from the first photos works better and I wonder whether making the waistband a little tighter so it sits higher would improve things a touch. I'm not ready to make a final judgement — this is a skirt length I've never worn (or really, that I've actively avoided). I need to get used to it on me!
The next version may be a mini but either way, there will be a next one and it will be in a luxurious natural fiber!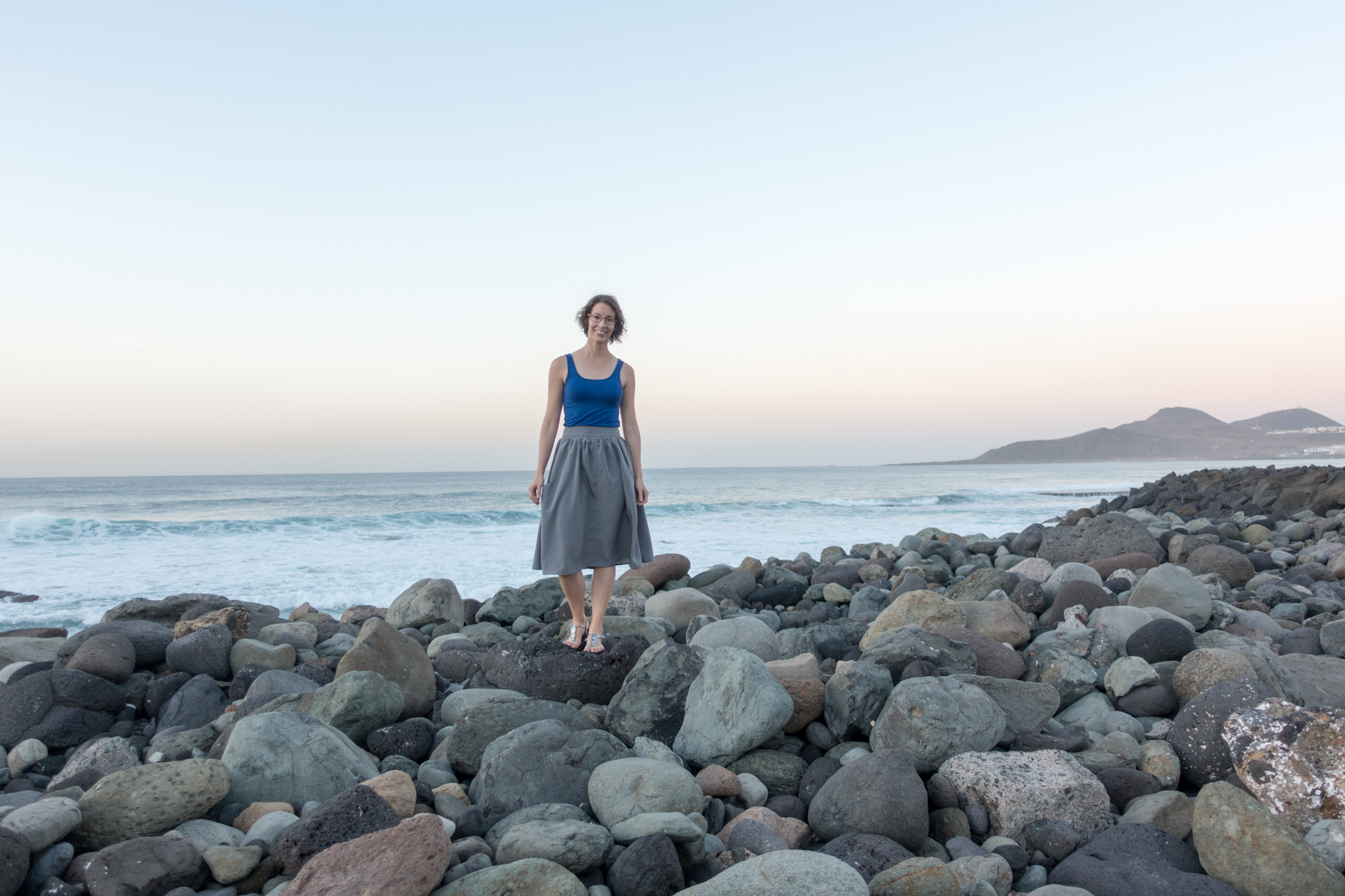 Husband verdict: way too conservative. 🤔