I don't like how I look in boxy tops and I'd rather live my life without sleeves but I made a Hemlock sweatshirt and I like it. What a life.
Thanks to a wonderful connection I made on French sewing community Thread and Needles, I have a sewing machine for a few days so I was planning to make some pieces I've been dreaming of:
But fall rolled into Marseille and I got cold. Ok, maybe sleeveless tops aren't actually sufficient for world travel.
One-size-fits-all scares me so I wasn't interested in Hemlock until I saw about the hundredth successful version on Instagram. Having a single size seems a bold choice for a free pattern meant at least partly as an introduction to Grainline Studios and it struck me that if Jen feels confident that it's a good ambassador for her brand, it must be something special. And it is.
For reference, my measurements are 32″ bust, 26″ waist, 40″ hips. The fabric is not my favorite color and print but it's what I could find at La Caverne aux Mille Tissus, a cool Marseille fabric shop in a former commercial garage.
The pattern is meant for tissue knits so I felt kind of naughty cutting into my fairly thick fabric. Really, I think any fabric that has some drape to avoid stiffness should work. I lengthened the sleeves by 3″ at the lengthen/shorten line. They're super comfy but a little wide at the wrist so I might consider tapering them if I do this again.
I put the pattern against myself and thought the length would be too much for a sweatshirt so I shortened it by 3″. I'm 5'8″ with a long torso so this is a very long top as drafted. I don't have access to a serger so I straight stitched using a 3/8″ allowance (recommended is 1/4″) and then did a zig-zag in the seam allowance. I finished the hems by turning up once and sewing parallel lines of straight stitch since I don't have a twin needle and this fabric isn't very stretchy.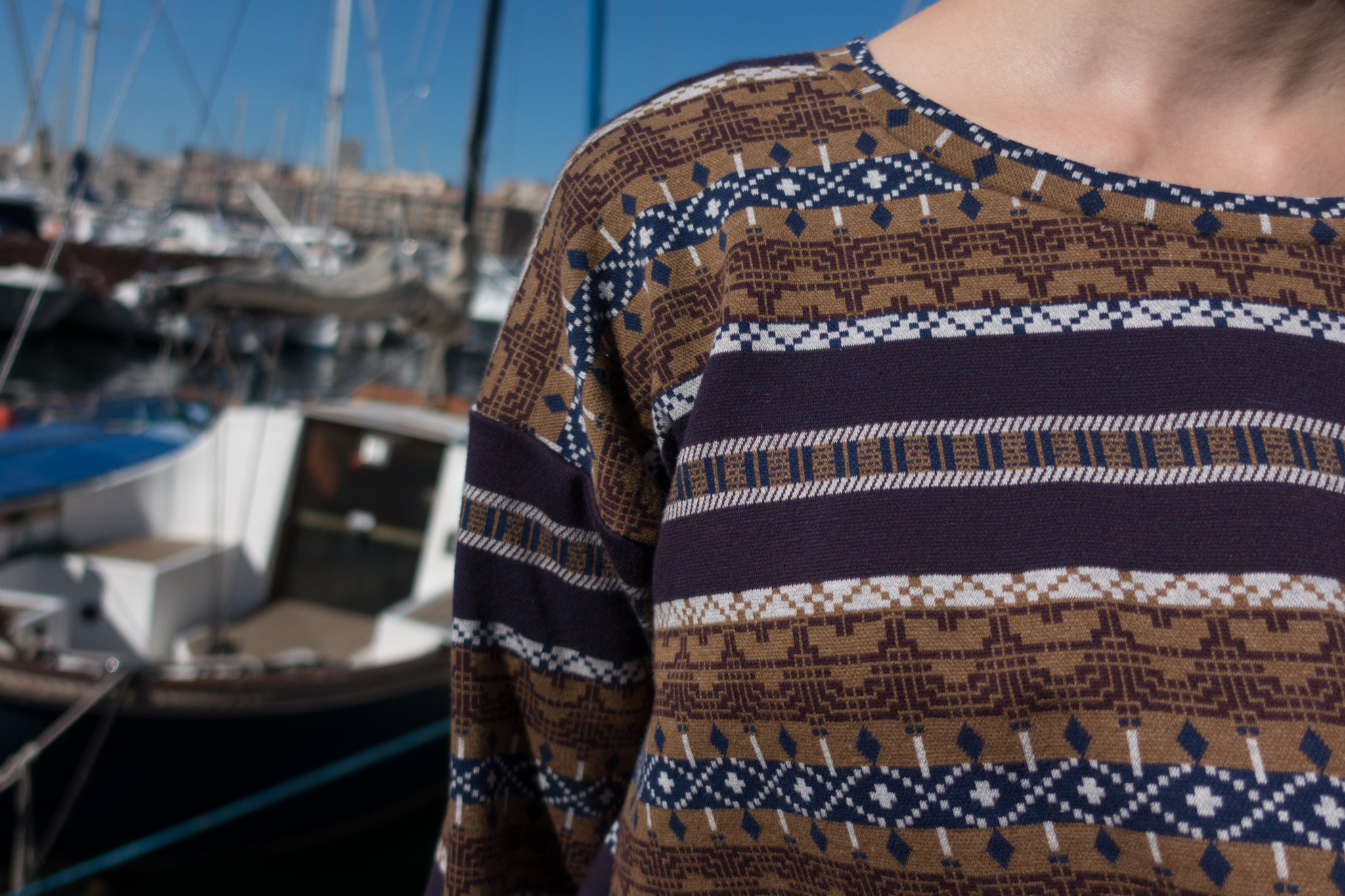 I made the visible part of the neckline band about .6″ wide. I cut the suggested length and it hugs the body very well. I matched stripes at the side seams and kind of eyeballed offsetting the sleeve stripes a little bit from the body for visual interest.
Maybe sweater weather isn't so bad after all.
Husband verdict: it looks a little bit old and maybe Mexican. 🤔