Wardrobe planning is a little different for me since everything I own has to fit in carry on bags. When my husband and I decided to be nomadic a little over two years ago, I briefly fantasized about sewing the perfect travel capsule wardrobe. But moving out of our home of 7 years turned out to be a big task and in the end I grabbed whatever was left after intense purging and stuffed it into my bag. A lot of me-mades were either impractical or treasured so they were given away or put in storage. I left with one me-made top but my husband lit me on fire while I was wearing it during our first month of travel and I had to throw it away. True story. 🔥
The last two years have been such a whirlwind of new experiences that I haven't had much time to think about my clothes. What I have has mostly served me well and I've really enjoyed having a minimal wardrobe. As many capsule wardrobe fans have said before, less choice when getting dressed is paradoxically freeing. I'm also very concerned about waste so although I've swapped out a few items over time, I've tried hard to make what I have last as long as possible.
But working on Cora has got me thinking about sewing non-stop and the more time I've spent reading about new pattern releases and amazing makes, the more I've felt like my clothing selection, although quite practical, is lacking in the aesthetics department. To remedy this and for my general sanity, I've decided I need to find a way to spend time making things over the next few months. Our next destination is Marseille and I've already found some good options for getting access to a sewing machine there. Please get in touch if you or someone you know is there and would be interested in meeting up to talk sewing!
With limited bag space, anything I sew or buy has to replace an existing garment. I haven't previously taken the time to reflect on what I have in my bags from a wardrobe perspective and doing that should help me figure out what should go and what should stay. For now I'm sticking to jotting down general impressions and eventually, I'll refine my thinking using exercises from Colette Patterns' fantastic wardrobe architect series and Unfancy's capsule planner.
I decided to start by photographing all the clothes I currently have to see the big picture and keep myself honest about where I'm starting from. The first thing that this process has made obvious is that I have several tops that serve the same purpose and make for nearly identical outfits. At first I thought I might have too many altogether but upon reflection, I think the number is right, just not the diversity.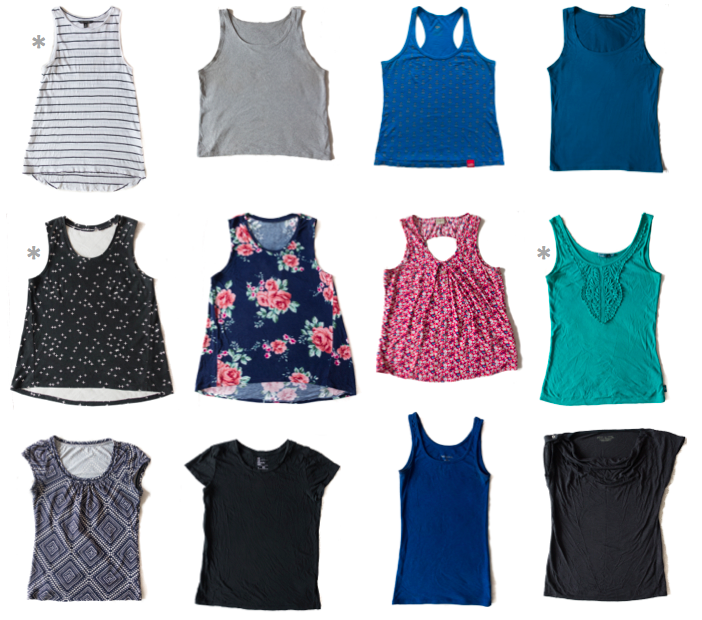 I've followed the blog Unfancy since its start and have always liked the way Caroline laid out her capsules so I followed that model and marked favorites with an asterisk. I surprised myself by picking the black tank with white 'winks' as a favorite over the floral one after writing I wasn't sure about it previously. I have to admit that the floral is a bit much for me and the quality of the fabric is just not good.
I have three blue tanks and two black t-shirts and those duplicates are easy candidates for removal. One thing that's clear is that I don't like sleeves! The black shirt on the bottom right was one of the few things I purchased specifically for travel because I thought it'd be nice to have a top I could generally wear sleeveless but cover my shoulders with when needed. It's the Noe short sleeve from Royal Robbins and I'm not a fan because the micromodal fabric wears very hot. I'm realizing fabric is the most important thing for me when it comes to tops — it has to breathe and feel cool to the touch. My ultimate favorite is the 50% Pima Cotton, 50% Modal of my Splendid cardigan (below).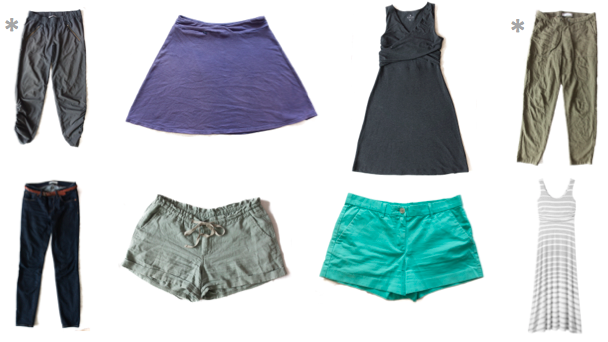 Bottoms have been tricky for me and I need to give them more thought. In my past life I mostly wore jeans and dress pants but they're too hot for where I've been recently. I wear the two pants I marked as favorites almost exclusively and I need more diversity.
The left-most gray pants are Athleta Aspire ankle pants and they are my favorite. I'd like another pair but my size is never available in colors I want. Last year, I saw one online, clicked 'buy' as fast as I could and was so disappointed when the pants that showed up had a bright green tropical forest on them. Not what I signed up for. I ordered again but they were delayed by a snow storm and I had left the country by the time they arrived. Athleta, why do you hate me so? If these were ever available in colors other than black or navy, they would be the perfect travel pants. They're made of some kind of poly blend they call "Featherweight Stretch™" and I would love to get my hands on a fabric like it.
The shorts have to go. I really don't wear them much because most places I've been are too conservative for showing so much thigh. The skirt I wore a lot but it has faded and is not looking so good. That would definitely be a good one to replace. I like having a short dress and a long one but the maxi takes an absurd amount of space. In fact, mine is blue and white and I had to grab a photo from the Athleta website because it's too giant for me to photograph. A maxi skirt might give me more options without taking up so much room.
We do sometimes venture out to cooler and wetter places so I have a few layers. The gray moto jacket has been absolutely perfect. It's made out of a french terry so it feels like a hoodie but looks much better. I don't think it's realistic to think I can make something like it on the road but it's definitely a dream sewing project for one day. My REI raincoat has been perfect whenever it's wet or I need a little more warmth and the leggings have come in handy. Overall, I'm happy with the layers I have although I could use one more long-sleeved option.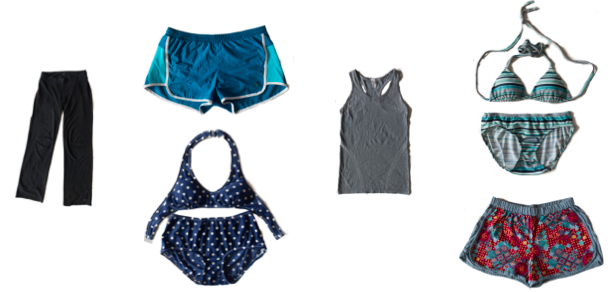 And finally, sleeping, exercising and swimming. Again, the workout shorts need to be swapped out for something I'll actually feel comfortable wearing outside the house. I love my lounging/sleeping shorts made from Purl Soho's free City Gym Short pattern and my me-made swimsuits although those are starting to show some wear.
For the sake of completeness, I'll mention I also have three pairs of shoes: Taos Trophy sandals, Ipanema Maya sandals and Nike free run 4.0s in an awesome leopard print that I never want to part with.
It makes me happy to realize that I can easily make do with 30 items of clothing (in warm weather) and I hope I maintain this minimalism beyond our travels. Going through and really looking at what I have has helped me get a realistic sense of what works and what doesn't. It's so easy for me to be overly aspirational when I'm thinking abstractly but having pictures of all my garments has helped me stay grounded. I look forward to seeing what ideas I get from going through capsule wardrobe exercises and I'm even more excited to pick a few key things to make and to get sewing!