I'm chasing sun and warmth these days and what I wear has gotten progressively looser. Can backpacker pants be far behind? They are practical…
During a quick trip back to Seattle recently, I got to borrow a friend's sewing machine and made myself two knit tops from a tank I traced. I'm still not very comfortable with a looser silhouette and tracing from RTW guaranteed I'd be starting with something that works for me.
Some things I love about these are the low armholes, high neckline and of course, that they stay away from my sweaty body. I feel covered enough for any place that will accept my bare shoulders while also feeling breezy and free.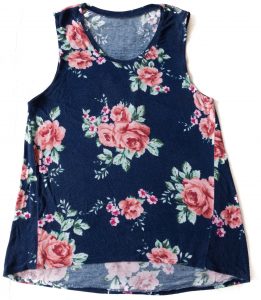 The side seams are angled forward which I really like and seems to be flattering although I'm not entirely sure why.  It's got a longer back which is good for modesty — I feel better a little more covered when I'm an obvious outsider no matter where we are.
The floral knit is a tissueweight rayon-spandex. It's not great quality and started having that weird white fiber halo that rayon knits sometimes have when I prewashed it. But it's so soft and comfortable to wear that I'll forgive it. I imagine it won't last super long but right now my only complaint is that it stretches a little more than I'd like over the course of the day.
I love making the same pattern in different kinds of fabrics to get different looks. I wasn't sure I'd like the top with less drape but I wanted to give it a try. It's a little more tent shaped than I prefer but I don't hate it. And of course it's crazy comfortable. This fabric is Wink from Birch Fabrics in "harper black" which is a really dark gray. I keep getting these Birch knits because I love their prints, I love natural fibers and I love knits but they never end up being quite what I want.
I think if I'm going to go for knits, I should look for some spandex to get good stretch, drape and recovery. These are beautiful but they just don't stretch much. And since they're printed on a white base, they're stiff and they can look a little strange when they do end up stretching. I'm happy with this top but I think I could have gotten away with using the same print on double gauze and would have liked that even better. Next time I'm tempted by Birch, I have to remember to try another substrate. STEP AWAY FROM THE KNITS.
I had some unexpected headaches with my friend's Singer 237 because I didn't even know machines could have side bobbins. It turns out that orienting the needle and threading it like I would with a front bobbin machine totally doesn't even kind of work AT ALL. So it was a slow start with lots of head scratching and Googling. I went through the trouble of buying a double needle for my finishing only to realize that a double needle makes no sense if the flat of the needle goes to the left rather than to the back like I'm used to. But straight stitch and zigzag worked great. I made bands for the necklines and just turned the armholes over.
All in all, these are a huge success and have become an important part of my new, looser uniform. I've started looking at loose top patterns for the next time I get to sew and I'm thinking  about Deer and Doe's Datura and Simplicity 1589 to add some cool woven rayon to my life. Are there others I should check out?